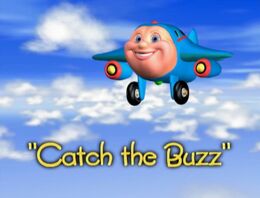 When Big Jake gets a "buzzing" in his head causing him to not fly well, Jay Jay begins to get upset, thinking he is not his friend anymore. Jay Jay, Tracy and Herky set out to find the source of Big Jake's buzzing by retracing the steps of his travel.
A Crash Landing
A Buzz in Big Jake
Jay Jay's Upset
Retracing Big Jake's Steps
Herky Catches the Buzz
Herky has a bee
De-buzzing Big Jake
Apologizing / Ending
Ad blocker interference detected!
Wikia is a free-to-use site that makes money from advertising. We have a modified experience for viewers using ad blockers

Wikia is not accessible if you've made further modifications. Remove the custom ad blocker rule(s) and the page will load as expected.