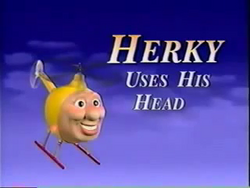 Plot
When Tracy and Jay Jay trained for the frosty pines route, Tracy was chosen and Jay Jay was upset. Herky, an expert skier, loved frosty pines, he went there all the time, when he started going with Tracy, she wanted some peace, and quiet. the next day, Jay Jay and Tracy were flying together about what to do, and Herky couldn't understand why, he thought they did not like anymore, but then he has an idea to help the little planes' problem.
Trivia:
This is the only episode where Herky uses different faces other than smiles
Episode
Ad blocker interference detected!
Wikia is a free-to-use site that makes money from advertising. We have a modified experience for viewers using ad blockers

Wikia is not accessible if you've made further modifications. Remove the custom ad blocker rule(s) and the page will load as expected.